Youth Football is a breeding ground for talent and sports media outlets like Footballville not only celebrates their story they reinvest in the youth alongside companies like MyUSAlocal.com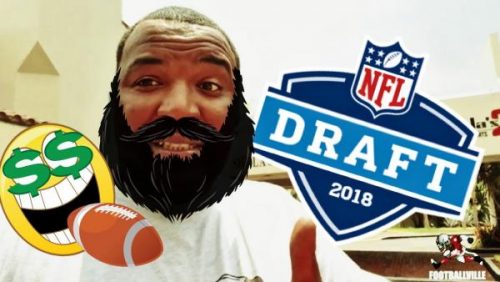 United States – April 28, 2018
Over the years Footballville sports media has been devoted to covering football from the latest local youth level to the national NFL draft.
This year when 2018 NFL Draft started they received a surprise message from a star athlete.
Before any other media outlet Streeter the youth empowerment speaker and activist was delighted to hear from Baltimore Raven Lamar Jackson. Lamar former Heisman trophy winner QB of the Louisville Cardinals reached out to Footballvile the morning of the draft.
The recent Footballville episode showcases not just Lamar but Baker Mayfield, Lamar Jackson,Raiders, Virginia Tech, Ryan Shazier, Pittsburgh Steelers, South Florida, Footballvile, Footballville Draft Picks, Cleveland browns, and the Baltimore Ravens.
While noted for Empowering the Youth through High-school Youth football and sharing insights from positive role models Mr.Streeter decided to launch his new personal youth coaching program alongside the NFL Draft 2018 update.
"The mission is to inspire the youth to have positive self-esteem, plus the desire and step by step plan to accomplish more with their life," says Darrell Streeter of FootballvilleNation.com
Similarly to other national youth football programs, American Youth Football requires its participants to perform adequately in the classroom before permitting them to play. Proof of satisfactory progress in school is required. American Youth Football participants who are high achievers in the classroom are eligible for special awards and scholarships.
Programs like Footballville offers strong moral, emotional, and inspirational support not only to the youth but to their families as well.
Star Riley of MyUSALocal.com states "Investing in the youth does well for our communities and we only see an increasing trend in the support and sponsorship from business owners who understand this"
Working with MyUSA Local Footballville has continued to expand along and has plans to cover the following nine American Youth Football regions:
New England, Desert Pacific, Midwest, Southwest, Big-East, Atlantic, Mountain Northwest, Southeast, and Central Midwest.
For any parent looking to empower their child and showcase their plays contact D.Streeter at 786-405-9499 be sure to connect with Footballville on social media https://www.instagram.com/p/BiCJ5uuFuch website: http://footballvillenation.com